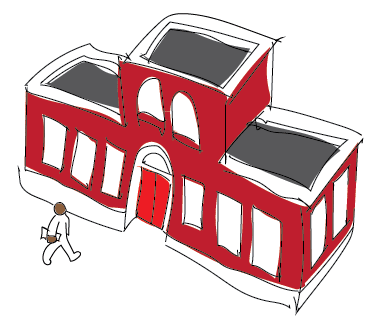 1) School
A middle school/high school taught from a business viewpoint.
Business Curriculum
Admission to the school would require the completion of a safety program over the summer, so students would not be a danger to themselves or others.
Once they have joined the school, the curriculum would include:
English: Reading about business, writing business plans, writing business correspondence, advertising and promotion, and writing explanations and instructions.
History: Reading, researching, and writing the history of business in Baltimore (such as ship building, the B&O Railroad and its competition with the Erie Canal and the Pennsylvania Railroad, and the development of the cotton duck manufacturing industry. You can see sample research at baltimoreindustrytours.com.) They could do original research, see how the business interconnected and how they failed or succeeded. The amazing thing is they could actually go out and touch the buildings that were involved.
Math: Bookkeeping, engineering applications, algebra and it's use in computer programming, calculus to determine optimum pricing, etc.
Social Science: Human behavior in markets, human response to visual communications, psychology.
Economics: How businesses work and the history of economic theory
Social Studies: Field trips to City Hall and talking with the Business Development department, going to Permits, sitting in on zoning board meetings, and talking with city council members to learn how businesses and citizens interact with government
Art: Advertising and visual communication; web design
Sample Project
Students could spend the first day building their own desks from a kit, first individually, and then as an assembly line, to understand the value of specialization. At the end of the first year they design and construct the kit for the desk for the next year's students, and watch at the beginning of the next year as that year's students assemble them. And then serve as mentors to the next year when year two designs the next iteration.
Industrial Design
Students would be introduced to materials, showen them how to shape and mold them, and then use them to solve real-world problems. The school would teach:
Freshman: Woodworking + molding techniques
Sophamore: Metalworking including welding, casting and machining
Junior: Plumbing and Electrical
Senior: Construction Techniques
Student projects would involve creating objects such as tables, chairs, beds and cabinets that could be used in their own homes or in the Habitat for Humanity homes.
Stages
There are three likely stages the project could go through:
Prototype school: As simple as 30-60 students in a couple of classroom pods placed next to an existing maker's space, using the maker's space facilities and teachers for the industrial design curriculum and the pods for more traditional classes.
School-within-a-school: Classroom space in an existing school with a maker's space or near a maker's space. Possibly part of Merganthaler or the Design School.
School: Independent school building with own maker's space.
Facilities
Given the purpose of this school, and the existence of empty factory buildings in Baltimore, the school could exist as a series of modular classrooms on a factory floor.
Kevin Plank has The Foundry, which is currently surrounded by empty land. If he were to see the value of this project, an experimental lab could be quickly created by placing modular classrooms next to The Foundry and using The Foundry and its employees for industrial design classes. A school bus could be added to transfer students to the Habitat for Humanity worksite.
There are other makers studios, including Open Works Baltimore in the blighted Greenmount area.